Hi, B! 😘
All I'm saying is, I noticed the additional call volume yesterday morning. By the way, I was in the middle of a phone interview.
So many things, where do I start? There's work, there's Karen and there's the girls.
Work. I'm currently on the clock and I don't fucking care. Had a frustrating call this morning and no surprise, the CEO is my trigger. Poor decisions, typical attempts to point fingers at other people. After 2.5 years, he still wants to claim that he doesn't trust the reporting that my colleague and I produce. THEN WHY THE FUCK DO WE STILL WORK HERE? Deep exhale.
I had a catch up with my colleague. She and I started on the same day, I'm very close to her even though we're 10 years apart. She finally told me today that she's fed up enough to want to leave. That's a hard choice for her because she's on a H1-B visa from China. But she said that she'll start searching for a new job in January and if she doesn't find anything by our 3-year work anniversary in March, then she'll quit. Even if she has to go back to China it's not the end of the world. She's already putting in a visa application for Canada, anyway.
I had already decided that would be my ultimate last day, too. Hopefully, something will happen in Q4. If not, I might quit either at the beginning of January just before their Manhattan location launches. Yes, as a kick in the face. Worst case is March. This makes me feel tremendously better.
I had another interview yesterday and I've got three on Monday. By the time March comes around, I would have put in 7 months towards the job search. So even if I don't find something by then, I'll have zero debt plus even more savings to tide me over as I continue with the job search. I'll be more than comfortable with leaving.
Moving on, Karen started posting again and if what she says is true, then she's moved to CT with the girls? So my main concern is the girls and I've got so many questions!
They left their school? They were there for a while, right? So they're both starting a new school in a new state? Do they have any friends? I'm getting flash backs to when I started high school. I was the only person from my elementary school to go to Bronx Science and half of us had been together since kindergarten. I was depressed my first semester of high school. I hadn't made any friends yet. Every Wednesday at dinner I'd tell my mom that half the week was almost over. My days were so long schlepping to and from the Bronx every day.
So I'm concerned, I hope they're having a much better transition than I did and I really hope you're helping them with it. That's why I'm sharing my experience because it effing sucked and I wish I had more support back then. Please be observant of them right now.
Aside from that, I'm thrilled that they're not at that super elite school anymore. I think long term it will be better for them. Plus, CT schools are generally great. They'll be fine…except I now have a sneaky suspicion that they aren't actually in public school now…anyway…
And you're by yourself in NYC? Because there's no way you're doing more than a 30-minute commute to work. Does it feel weird? I have no idea what's actually going on but these are all my thoughts and assumptions.
Then, I wanted to share this: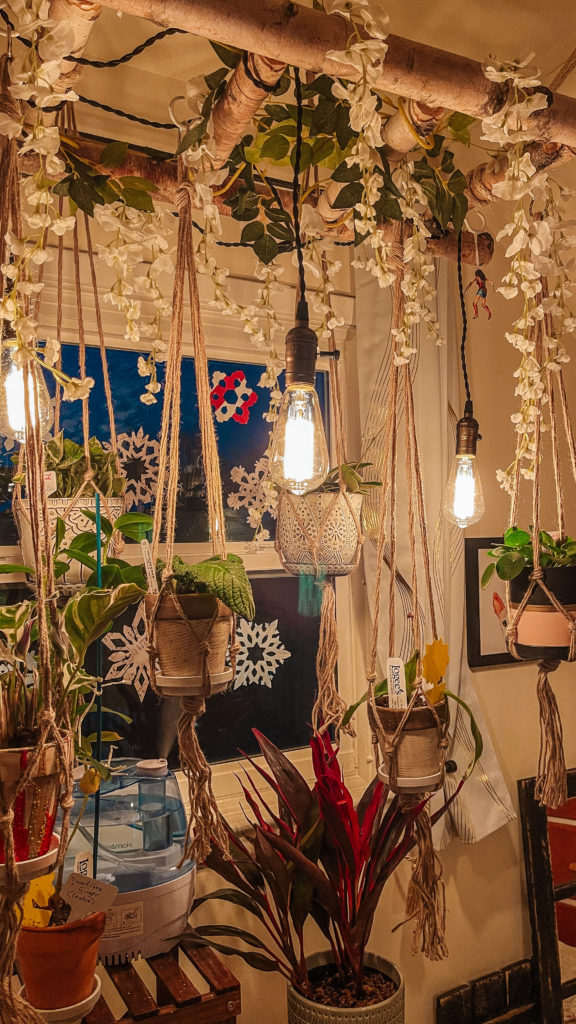 The internet told me that one of your kids might be interested in adding plant life to her bedroom. Because Karen. Because Pinterest.
I mentioned a while back that collecting plants became my covid hobby. I found an inspiration on Pinterest that led me to put together this ceiling and lighting installation in my bedroom. It's super romantic. I can't tell you how often I wish you were there with me.
Not that it needs to be romantic for the girls! I'm just saying, encourage her to add the greenery. She should start with plants that are easy to care for. Pay attention to lighting. More light is better but be careful of south-facing windows, only a small selection of plants really need it and even then, they can burn. I learned the hard way.
Over-watering is the rookie mistake. Once a week or every 2 weeks in a typical bedroom lighting environment should be fine. Also, soil is the enemy. TRUST. Look for coco coir and clay pebbles. Also, I've got fancy pots that are super pretty for décor but they often retain too much water and drown the roots. Look for the plastic orchid pots with lots of slits. If she can provide the above for the plants, they will be more forgiving of mistakes.
The picture above is really only about 1/4 of my plant collection. I've got exotics that are worth close to $2K. Thank God, they're still alive.
Karen looks like she's back to her usual antics. She's still using the husband language and there's no clear strategy to her posts yet. Although, to her credit, she did post a survey asking her audience why they follow her and what they want/expect from this space?
Oh, can I answer? Pretty please?
I'm coming to be entertained, perhaps in the way people like to be entertained watching horror films. Her ignorance makes me giggle, and her blatant insecurities make me feel uncomfortable and embarrassed for her. It's like not being able to look away from the site of a train wreck. That's why I come.
What I want is for her to finally behave in a manner that would allow me to respect her. You know, admit her lies, own her mistakes, actually embrace all that kumbaya yoga nonsense that she supposedly subscribes to.
What I expect is for none of that self-growth to happen, for her to continue puttering around as she always has based on whatever cycle of her neuroses that she's currently in.
To help a girl out, here's what she should be focusing her content on, if she were genuinely interested in growing her brand:
It's not about you. Karen has spent much of her online presence focused on herself. The diets she's done, all her yoga hours, her love for food. Karen, Karen, Karen. What she fails to do is connect her experiences with what her audience's needs, wants and pain points are or what they want to accomplish, solve or benefit from.
To be fair, there are successful blogs that provide their audience with entertainment solely on the antics in their lives. But unless she can deep-dive into her personal life, specifically her kids and supposed husband – with pictures – she's going to continue getting no where fast.
Also, she needs to develop her voice. That first depends on her figuring out what her brand is and what that brand voice is going to be. From the years of content she's posted, there's nothing unique about her style to help her stand out from the crowd.
At best, it seems like she's trying to get into the cooking and fitness niche(s). There's no white space here, the competition is high, so what is going to make her stand out? Especially when, at best, she's only sharing her experience from trying other people's recipes.
I'm drawing a blank, how about you?
Finally, she's going to have to constantly track and measure performance and results. Analyze, optimize and grow. That requires some analytical skills. You know, math???
She's so entertaining but not for the ways that she'd like to be.
You might ask why I'd help her out with these tips. Probably for the same reason I've been wasting my time at this company: I was optimistic that maybe she'd evolve to be something decent and respectable. Especially if she's someone I may have to interact with in the future.
Alas, it seems yet again, I'm asking someone to be something she is not capable of being.
In other news, I'm planning a weekend getaway with my co-worker, same one above, for October. I'm thinking Howie Cavern, horseback riding, the Headless Horseman haunted houses and a hike. But first I need to see if I can get Ruthie admitted to a daycare center. Baby steps!
Love you, miss you. Stop by if you're ever feeling lonely in that co-op. I can order takeout. No, I'm not cooking. You're funny. 😘