Let's see how far I get before frustration kicks in from typing with two thumbs.
Woke up at 4am. Big thanks to Ruthie for having anxiety all night because some smart ass decided to light fireworks. Neither of us slept well.
Lyft was ready by 5:20am. I got in the car around 5:23am and got to JFK by 5:38am. Cleared check in and security screening by 5:55am because a nice lady let me skip the line. The perks of traveling solo with no checked baggage.
Flight was at 8:45am. Lots of empty rows, I ended up with one to myself. Got to hotel by 12:33pm. Had lunch and was on the beach by 2:30pm.
I have to admit, though. I got bored quickly. By 4pm, I headed back to my room, showered and strategized. Got some brochures to peruse during dinner next door. Food was SO good, I think I need a second night here.
I think I've decided on a half day boat cruise and a half day island cruise via "Love Buggy." But my Covid test is tomorrow at Noon which may or may not impede scheduling. The staff member who helped me with my bag to my room is helping me schedule and book. We're Instagram buddies now.
P.S. The staff here work long hours. The woman who checked me in told me she was the one who answered my call last night when I confirmed my reservation. That was 9pm. She was still at the front desk when I got back from dinner around 7:45pm tonight.
After dinner, I went for a walk along the shore. Best part of the evening. I could have stayed out there all night. I sat on a beach chair just watching for a while. But then I lay back and looked up at t night sky. Game changer.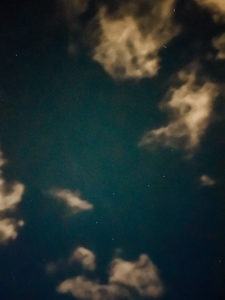 I don't know if you can see but I think I was right beneath one of the dippers. Biggest photo challenge for my Pro Max yet! I could have lay there all night.
Really wish you could have been here. The trip feels incomplete without you. Story of my life. Probably story of your life, too.
Love you, miss you.